I started the NaNoWriMo challenge last week like I ended Week 1 – on fricking fire! As soon as I hit the halfway point (25K+ on Wednesday), I had to slow up and do a few minor things around the house. Like finish harvesting all of the sweet potatoes and bring all of the house plants back inside after their long hot summer out of doors. This is Michigan, you know, and the threat of a freeze last Thursday night was upon us.
It only took my husband and I from 2 – 6:30 p.m. to complete the task of lugging the plants back in. That's because we are getting too old for this bullshit (as I reminded him every five minutes, at first gently, after the first hour with more vigor). And he prefers ceramic pots, so an 8′ fig tree is going to weigh about 300 pounds. I love growing things, and most of my plants (angel trumpet, bird of paradise, citrus, bay, rosemary, agave, etc.) are not cold hardy here. I've been lobbying for a greenhouse (preferably attached, preferably heated, and preferably with a water supply) for three years now. I think I'm going to have to put my foot down in 2017.
The rest of the week was spent in research for the current work in progress. I don't usually perform an in-depth research, but this time I'm studying the weather conditions in the areas where I am placing my characters. I've also set up a calendar (my story takes place in the month of May) and have begun to sketch out where the ups and downs will be, the climax, etc. I'm a pant-ser, so this is pretty remarkable for me. I normally don't do this kind of "planning" – such as it is, until after the first draft is complete.
After a weekend of very little writing, I'm looking forward to starting again in earnest.
In the meantime, enjoy this: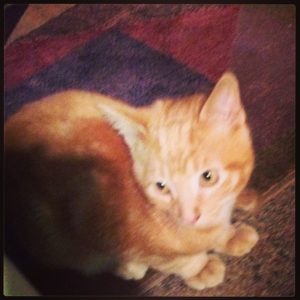 This is Purrby when we adopted him three years ago. There's nothing like a kitten picture to brighten up your day.
Until next time…