If you know me and/or follow me on Instagram, you would realize that I'm quite the foodie. (Instagram because I'm totally addicted to food porn. Most of my photos are food I've eaten, food I've made, or food I wish I could eat.) I especially love local dining, no matter where that might be, and regularly seek out holes-in-wall-restaurants that are gastronomical diamonds in the rough. I honestly do not get fast food (although I will falter and succumb to a Big Mac or KFC once a year), or chain food (ICK!). I mean, really…if you're in San Francisco, why would you grab a coffee at McDonald's or Starbucks when there are so many local java huts? Why would you eat at PeiWei when there are literally thousands of Asian restaurants within a 49 square mile radius?
I have taken my food snobbery to other, decidedly smaller venues. Everywhere you go, there are local restaurants who attempt to maintain cuisine that is true to the area.
Food is more than fuel or comfort; it's art in its own special way. In order to experience the art, you may have to travel outside of your comfort zone. Way outside.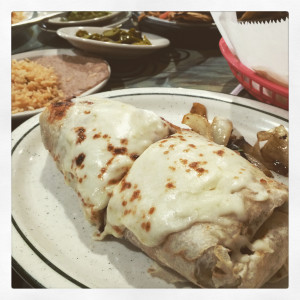 Which brings me to this cheese smothered "California" burrito which I half ate last night. (Daughter got the leftovers.)
I've lived in the Detroit area for nearly 30 years. Detroit has quite the Mexican community. A Mexican Town, even. I HAVE NEVER BEEN TO THIS AREA UNTIL LAST NIGHT, when I suggested we go to Mi Pueblo (technically Southwest, not Mexican Town) for dinner.
Why not?
Well, for one thing, this area of Detroit is not one of the best. It's industrial. It's gritty. It's DEE-TROIT. Buildings are covered in graffiti, every third house is burned out – in other words, it's soooo not suburban Royal Oak.
It's also far from the main drag and a freeway entrance, making it scary for my husband.
But I (and the daughter) was craving a super burrito something fierce. Something genuine, or a reasonable facsimile of it.
Okay, so the "California" burrito pictured above was not a real San Francisco Mission burrito, but it was close enough. The rest of the meal was tasty. Mi Pueblo makes their own corn tortillas. The margaritas were decent. Our waitress was excellent, quick, friendly, helpful.
Now, what does this dinner have to do with writing?
As I mention in this post, sometimes as a writer, we must go to places (physical or psychically) where we are not familiar. Sometimes we want to take this trip; but other times we are pushed into it.
Either way, if you don't take that leap of faith, you will never know.
Good artists and good chefs will push the envelope. They're not afraid to try something new.
The best food snobs will eat just about anything – once.
The best writers keep their minds wide open to new possibilities, whether they jump or are pushed off that cliff.
🙂