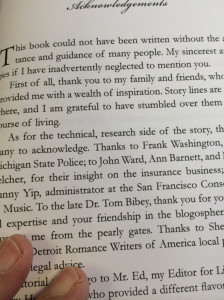 A shot of my Acknowledgments Page, FINDING CADENCE
As a writer, there are some forms of writing that I enjoy more than others.
For example, I relish writing scathing letters to editors and politicians, angry rants to restaurants that have done me wrong, or other customer service related diatribes. That's because when the emotions are riled, the juices flow easily.
I used to be quite the letter writer back in the day, before the Internet and text messaging. I'd buy beautiful stationery or artistic greeting cards to bleed my feelings onto. Now I don't have the time to write in this way. (I wonder if Hallmark has experienced a dip in sales???) Thank you, social media, for making my life easier.
And yes of course, I like writing my stories. Writing fiction is the most fun a person can have while sitting in one place.
I don't mind writing query letters, although thinking about doing so used to give me the willies. Now, writing a synopsis – no, I get no enjoyment at all from that – I don't know when to stop, and forget about outlines. Can't stand them, never could.
The one part of the novel I most enjoy writing? It has to be the Acknowledgments page. This is the one page where I can thank everyone who has helped me along the way. After all, not everyone is online, not everyone reads my blog and sweats alongside me while I'm laboring with my stories.
I actually start writing my acknowledgments while I'm working on my novel. In the case of FINDING CADENCE, it was so I wouldn't forget who helped me, how, and why. This was a novel with many twists and turns, and I had to be reasonably certain that my premise and situations were plausible. I asked for and received so much help along the way. It was a long way, too, and with my advanced age, I tend to forget what I ate yesterday, not to mention who gave me insight or answered my questions. Writing things down is the only way to go.
I'm a very firm believer of paying it forward, and also paying it back. In a world where courtesy and appreciation seem stretched thin, a public display of thanks takes so little time and means so much.
Next up…paying it forward.