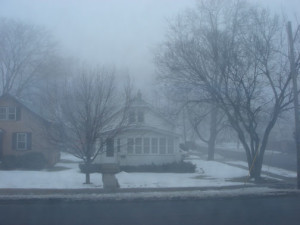 This is my heart. Gray. Lifeless. Foggy. Heavy like a wet sponge.
NO WONDER I CAN'T WRITE!
*palm slap to the forehead*
Those terrible occurrences of last year have followed me into this year. Just when I thought it couldn't get any worse, it did.
I don't know how life has spiraled so out of control. I'm a creature of habit; I'm used to a schedule, to relative calm. I like a quiet house and no worries. When things go haywire, I don't like it. That old adage about how God gives only the burdens that you can bear is a bunch of hoo-ey. I could have freaked out and become catatonic with only one-half of the burdens heaped on my plate. I should have.
The most difficult item on my agenda was letting go. I had bottled everything inside me, worrying over things I have no control over. I'm a wife, a mother, a business woman, a gardener, an artist. I need stability to do my best job in all these areas, and I just wasn't feeling it. The ground beneath my feet has been shifting like an earthquake rumbling, and it was all I could do to keep myself upright.
However, I am glad to report (after the first six days of the New Year – Happy New Year to me! – not) that things are beginning to look up. Many problems remain, but others are slowly untangling.
It's almost the end of January. Winter has been a milder one than last year's, although winter is winter, especially here in the Frozen Tundra. The days are getting longer. When it doesn't snow and is terribly cold, the gray skies blow away, leaving a crystalline blue background and puffy white clouds. When the sun's out, even 18 degrees feels warm.
I haven't seen the crocus sprout, but it's only a matter of time.
Hope. It's what I needed.
Releasing the angst and admitting I'm not capable of changing others – I needed that, too.
I'm now going to get on the horse again – MY horse – and write. Run my own life for a change. Get my hands dirty, let my mind go wild.
I don't know what just happened now, but I know I like this.
🙂