Yesterday, I spent the day at Leon & Lulu, a hip shop that once a year features local books and authors. This is my third year of attending.
I have to say that I love this store. It features furniture, clothing, and chatzkees you won't find anywhere else east of San Francisco. I could spend all day in it reading (there's a great selection of books as well) while I try out couches and side chairs. (I have hence spent a great deal of money on furniture, as you can imagine.)
After setting up my table, I settled in with complimentary coffee and sweets. (There's complimentary hot dogs and wine later.)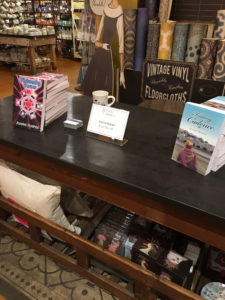 I don't do too many of these meet and greets with my books. For one thing, while spending the afternoon in a fabulous venue with interesting people who are overly kind to you is a fantastic way to spend an afternoon, I don't really have the time. I could have been pulling up my sweet potatoes or doing laundry, but I do make the time for this one event a year.
I'm also a recovering introvert, which is why I force myself into situations like this. It's honestly hard for me to start a conversation, but I've learned through many years of practice that if you start with a smile and a hello, you can often build from that.
I certainly don't attend to make a ton of cash. Let's get real. When you're an artist, you have to steel yourself for the looky-loos. You can't creative for everyone. In a room full of children's books, mysteries, and prescriptive nonfiction, my contemporary literature isn't going to appeal to a wide audience (although grown men have purchased my book, amazingly so).
Plus, I think it's a win-win if only one person is enamored of my story just from the back cover blurb and it's a home run if they love the book once they've read it.
So I don't go in looking for a windfall. After all, this is a charity event. The most I can hope for is getting my name out there.
I also attend for another totally selfish reason. I people watch. I listen to people with their stories, like the little girl who loved to write and was interested in self-publishing, or the man who lost his wife to cancer and was dealing with the pain, or the author who looks a lot like Santa Claus.
There are stories everywhere! You don't have to look far or wide, you just have to open your eyes!
In a lull moment, I opened up each of my novels and read the final chapter. Something came rushing in…pride? a sense of accomplishment? inspiration? I found the urge to put pen to paper.
And this is why I do Books and Authors.