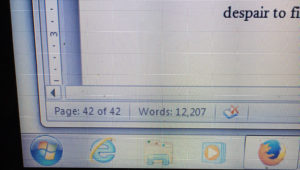 Wow, not even a full week of writing and I'm up to over 12K in this year's NaNoWriMo! This is the most productive NaNo I've had since I started. (So far. I don't want to jinx myself by crowing too loudly.)
Not wanting to spend too much time or too many words on this post, I do want to share some observations of the last few days:
The more you write, the more you write. It's true! Getting into the habit helps.
The more you write, the faster you write. I can remember previous November writing attempts where squeezing out 500 words a sitting would take three hours. Now I'm doing about 1200/hr or more.
Clearing the schedule is a must. This November, I am giving up my daily runs. No work out until I have at least 50K words. Running is my hour of writing. I may weigh 200 pounds by December 1st, but hey, I'll have the bones of the work down.
Don't look back. I used to be the kind of writer where I'd write a paragraph or two and then spend the next half hour ruminating over what I'd done. A November manuscript isn't going to hit any store shelves right away. Go ahead and zoom along. Editing is for later.
Make sure the heat is turned on. It's easier to write if your fingers aren't cold.
That's it for now. I've got to finish my Day Job work so I can work on the novel. See you next time!
Happy writing!
Save