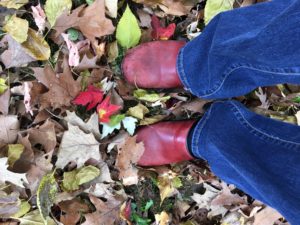 Week Three of NaNoWriMo and I am pleased to announce that my word count is 40,008. That leaves just 9,992 words to goal. With Thanksgiving coming up (besides cooking the turkey, I'll also be peddling my jewelry at Leon & Lulu this weekend for the Holiday Artist Market), I need to be ahead of schedule.
The word count is the good news. The bad news is the way that I'm writing.
I sit down and begin to write. That's good. (Very good.) I'm actually getting a lot done in the small amount of free time that I have. However, I'm pantsing it the whole way this year. Which means I'm not writing in a linear progression, meaning not by date, not by story line, not by character or point of view, not by anything.
Example: Last week I simultaneously worked on the beginning, the end, and the in between. Not in logical order, mind you. I kinda-sorta know the scenes I have in mind, but I don't write them beginning to end. And what's worse, I might get 3/4th of a scene finished, time's up, I move on to something new the next day, and three days later come back and finish the first scene.
I know, I know, I could maybe go back and serialize it as I go along. But this is NaNo! I don't have time to dink around with logistics! Dinking around is why they made a month called December!
I wouldn't recommend writing in this haphazard way, and I don't think I'll do it again. It's very messy. Already I see I'm going to have to print this work out and use my trusty scissors in order to get it back to a normal and sensible progression. Too late to change direction now.
In other news, winter has arrived with a vengeance, after a warm and balmy fall. It was 70 degrees Friday! I woke up to 27 degrees today. Which is why the backyard isn't raked yet. (See photo above.) I'll be too busy writing and making turkey and homemade cranberry relish and pumpkin pie and sage stuffing in the next couple of days to get to it.
Got to run. Time to write.