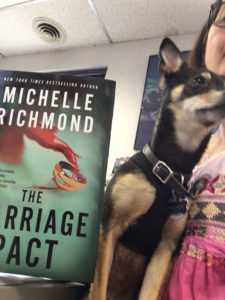 This is the Duchess of Hayes. She cannot read, but she sleeps under my right armpit when I do.
This weekend I took a brief rest from my endeavors of slapping together my chap book (poetry, flash, and tiny essays). I'm not a whiz when it comes to book design, and choosing the perfect 24 or so pieces (and editing them) has turned into a colossal time suck. Not that I don't mind, it's exciting to uncover the long hidden and shine them up to make them fancy. It's just this part of the creative process has less to do with art and more to do with mechanics. After weeks of struggle, I was soooo ready for a diversion.
My copy of Michelle Richmond's The Marriage Pact arrived in the mail Friday. Yippee! Just in time for granddogsitting for the weekend! (If you're ever asked to dog sit for two chihuahuas when you have your hands full with your own dog and cat – and life, which includes keeping the house clean for potential home buyers, think twice. Love my daughter, love the dogs, but I'm sure I'm a cartoon coming out of the house in the morning with two leashed dogs and one in a carrier.)
I know you've heard me ad nauseum, I love Michelle Richmond! I love her writing style, I love the plots, I love the subplots! I have all of her books! I've MET her! I've taken a couple of online classes with her! The Marriage Pact is perhaps different from her previous style, but yet delivers as a great read.
Why? Because I couldn't stop turning the pages, that's why! I had to find out what was going to happen next! I dragged this book (don't usually buy hardcovers of anything, but there I go) all over town, along with the two chihuahuas and my nervous and unruly Boston terrier. I read it in snippets at the office and waiting at my daughter's house for the home buyers to go away! I read it so intently, my husband kept asking me was I going to get dinner ready. (He was starving; I needed to finish a chapter.) Today I went home IN THE MIDDLE OF THE DAY and finished the last 50 pages.
What can I say? Very satisfying. 🙂 (I won't spoil it for you. If you really want to know what happened, go buy your own copy!)
Now I'm ready to go back to the edits. I've got a cover designer on the job, and I will plug away like a good writer. I might even finish before my self-imposed deadline.
Sometimes, writers must read. I read all the time, but it's truly exciting when you get to read something spectacular. Reading sparks the fire. Maybe it will result in a conflagration.
Save