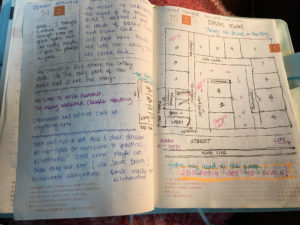 Page from Hobonichi
I have been moderately silent online, but not without writing, or editing, or plotting and planning future writing in my Real Life world. I bought a Hobonichi cousin and have been writing in it faithfully every day. (Whee!) (Sometimes I draw, but that's still creative.)
Unfortunately, I have had some other issues to attend to, ones that required way too much of my personal attention. Let's put it this way, if you buy a brand new washer/dryer combo, you expect it to last far beyond three loads of laundry, dozens of phone calls, five service calls over an eight week period of which only ONE counts as a "real" call since only one had a beginning to end resolution, and a two month shelf life.
I happen to be a master at business letters. I used to write answers to union grievance letters and rebuttals to workers' comp claims. If you get me riled up and going, my complaint letter will burn the hands of everyone who must touch it at the Post Office. (I hear that it ignites the fiber optic cables via email.)
I have been an unhappy camper regarding this washer/dryer since Christmas. I wanted to jot off a quick and scaldingly hot letter weeks ago, but my husband (who has a much cooler head than I) suggested I give them a chance.
So I gave them a chance. Then another. Then another. And another.
Finally, I hunted down the addresses for the CEO, CMO, the national customer service office, and wrote them a letter, sent on January 28.
Certified.
Return Receipt Requested.
This got me entree to a customer service agent in our country and not in an offshore call center. She assured me this past Friday that everything would be taken care of.
Except it wasn't.
They were late. The current occupant of my hopefully-one-day retirement home had to get her kids from school, so the repairman left a nice little note on the door. "Sorry we missed you." (!!!) You were 45 minutes late!
So here is the product of my ire, the best thing I wrote in the month of January (names blocked – for now – I might go full metal jacket next week and post this everywhere online):
Dear Sir

This letter is serves as a formal complaint regarding the washer/dryer combo unit I purchased from the XXX Livonia, Michigan store on October 8, 2016.

I had purchased the unit in Michigan, but it was to be delivered to my second home in Colorado Springs, Colorado. The unit was delivered on October 17, 2016 (I was present) and set up. It appeared to work at the time of installation. In the meantime, I have short term tenant who moved in November 1, 2016.

After three successful loads of laundry, the unit began to leak profusely. I have a water alarm on the washer/dryer which is tied to our alarm service. The leak was so bad that it shut off the water completely.

My tenants went out of town at the end of November to mid-December. When they returned, the washer portion of the unit was in terrible shape. She attempted to call XXX service, but as she did not purchase the machine, they would not schedule a service call. I had to call them. When I called, I asked the customer service rep to take down her cell phone number, as I cannot help her or the XXX technician from 1,400 miles away. I also do not know her schedule. Customer service took this information and informed me that she could make the appointments if she had the sales check number, the phone number of the primary account, my name, and the address of the primary account. I gave her all this information.

Unfortunately, when the tenant called, the person she spoke with would not make an appointment. So I ended up making all of the phone calls.

Here is the history and a partial list of the calls I have made:

12-22-16        Set up customer service (3x*) / repairman came 12-23-16

12-28-16       Washer stopped working / repairman broke the door (!) door ordered

12-29-16        Called for service, informed the door was sent / repairman came 01-06-17

01-07-17        Called for appointment / repairman did not show up

01-09-17       Called for service (4x*)

01-11-17        Repairman showed up to fix door / told tenant the entire back of the machine needed to be replace so they ordered that (2 week). Repairman suggested a replacement.

01-13-17       Went to local store. No store manager. Salesman called customer service 3 times in one hour. (Kept getting hung up on. Tried to see about getting replacement.) Nothing resolved.

01-14-17      Called for service / part had arrived

01-18-17      Repairman came / said it was just a loose wire / fixed it and took away the new part

01-19-17      Washer leaks again / called for service (2x*) Second call I tried to get a replacement. Agent (I was transferred to) said I had only called once and the service man had only been out once, basically saying that I made up the entire thing. He said he would transfer me to service, but instead I was hung up on.

01-20-17       Called for service / was told someone could come out that day

01-20-17       Repairman calls me / says he can't make it before the tech support closed at 7 p.m. Also said he didn't think he should fix a problem when he was there the day before but the other guy "fixed" the problem. Said the other repairman should fix it.

01-25-17      Repairman came (I guess the first one who broke the door?) / ordered the part the other repairman took away. (He could have fixed it had the part been there.)

*Denotes the times I was cut off, disconnected, or hung up on so I had to call back.

(By the way, when I get email from XXXX saying when the service is scheduled, it has my name, the address where the unit is located, and my TENANT'S phone number. Why customer service will not allow her to make appointments when they obviously have her number is a mystery.)

In the meantime, I looked online and posted to community.XXXX.com, where my post was just one of thousands of other unhappy customers' posts. I received an email saying they were working on my problem. Six days later, I made another post on the web site, just a nudge thinking that maybe I was forgotten, where I found this comment made by Wendy:

I do apologize that contact had not been made and greatly appreciate the update. Your concerns have been forwarded to our weekend team, Sears Service team, for assistance.
Thank you

There was some back and forth, as Wendy indicated that someone had worked on my problem before. I told "Wendy" I was sure she was a very nice woman, but no one had contacted me. I am still waiting for the weekend team (last weekend) to contact me. I've been waiting for anyone to contact me.

It is now January 26, a full seven weeks since the washer broke down. I am beside myself over this. My tenant has three small children and NEEDS a washer. She is finished with dealing with this and will buy her own (not from XXXX), which unfortunately cannot be delivered for a week to ten days. I will have another appointment, hopefully before then, to fix it. In the meantime, I am paying for her laundry of the last two months which far exceeds the cost of the unit. Instead of "fixing" it, I would rather you take it back and credit my account.

I have been a staunch customer with XXXX for the last 35 years. You used to offer well-made and reliable items, and your customer service was second to none. We have bought everything from TVs and appliances and furnaces to having all of our cars (company cars, more than a dozen) serviced at your auto center. This last purchase, a washer/dryer combo, is the straw that broke my back. I might NEVER buy another appliance from you.

I just want to also note that I have called the 800 number any number of times in the last month trying to get this issue resolved. The store employees are great; your customer service number is not. Here are the issues:

They can't find you by telephone # half the time, but do the rest.
They can't find you by name half the time, but do the rest.
(By the way, I know we have a massive account and I've seen all the names and addresses and phone numbers associated with it and I understand, but STILL.)
If you give the address of the primary account, they can't find you.
If you give the delivery address, they find the person who owned the house before me.
If they do find you by any of the above, they will reference a washer you bought in 2014 that is in Michigan, which is not the same make/model.

By the time they've located your purchase (by using your sales check number, which works most of the time) the original person who gets the call can't help you so this happens:

If you get transferred to another person, you will either be on hold for the rest of your life, or your call will be dropped. Or in many cases, you can hear the agent but they can't hear you so they hang up.
If you call back you have to go through the entire process again. Which means I have to endure  #1-5 and someone else has to listen to my story again.
If you call back the Philippine call center and ask to speak to a customer service supervisor, you still have to go through all these steps. And THEN be put on hold by THAT person just to have the call dropped after 20 minutes.

I know the 30 day refund/exchange period is over, but I've been calling on this issue for 7 weeks. This is a BRAND NEW washer which has only seen 3 loads! If you can fix it NOW, I will accept that. An exchange would be most helpful. If you come and take it back and refund my purchase price, I will not be displeased. Otherwise, I might have to resort to legal action in small claims court.
*sigh*
I'm sorry that I cannot report that I finished five chapters of my current work-in-progress during January, but February looks promising and March looks even better.
By the way, I am available to write complaint letters for the general public. I charge by the level of irritation.
🙂