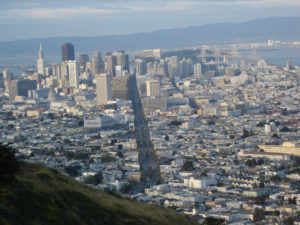 This is not a slam. Dude, I love San Francisco!
I spent a third of the month of February in San Francisco. First, to visit my son (it's always reassuring to know that 50% of the offspring is still in reasonably good health), then to attend the San Francisco Writers Conference.
Unfortunately, I was met by rain on my arrival. It had been raining there for nearly six weeks straight. The clouds parted on the second day and stayed that way for a few more days, which was nice. Thank you, God. The rain reappeared in time for my last four days indoors.
Rain is nice for California. They haven't seen a lot of it in many years. Because of this, many Californians cannot drive in wet. On previous trips, I've seen the people of San Francisco freak out over momentary wet. Heavy rain is another thing altogether. I've seen this type of terrible driving here in Michigan. Every year. The first real snowfall, and the place goes berserk.
California has another problem with too much rain. There's literally no place for it to go. After seeing photos of 25′ high and higher of the snow in the Sierras, there's going to be huge problems once spring comes and that melts on top of the record rain.
So…we were driving back from Santa Cruz one day, and the main drag out of town and onto the South Bay was closed because of mud slides. The long, circuitous detour up and down mountains wasn't much better. Parts of the road had washed away, leading me to wonder why I'd decided to drive down there in the first place. But it was an adventure, all good.
Another hazard is that of overindulgence. Wine, food, you want the best, most decadent and creative things to put into your mouth, California is the place to go. Except for no wine this time, I kept my eye on good food. Everything from Hog Island oysters for breakfast to Mexican to Chinese to seafood, to the room service at the Mark – believe me, it was all good. I tended to overdo, meaning when I got back to Michigan, it was time to diet.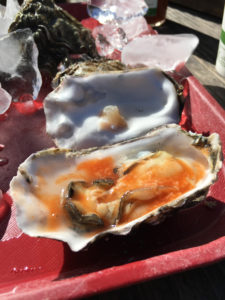 Except because I was gone for eleven days, I had a mountainous pile of Things to Do at the house and office. You know…laundry, payroll, the refrigerator full of mystery food, taxes. Two days at the artist market. Catching up with my short story homework. The daily filling out the Hobonichi was about all I could handle.
Yesterday, I ran for the first time in three weeks.
Remember, before you take a trip to San Francisco, the aftermath can be hazardous.
🙂
Save