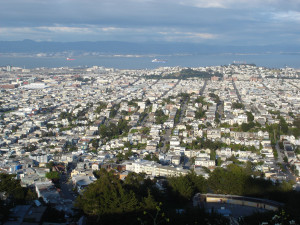 I'm giddy! This Wednesday, I'll be traveling to San Francisco. It's not just to escape the cold, the snow, and the grey. I hope to learn a few things this weekend.
This weekend I'll be attending my seventh San Francisco Writers Conference. If you've followed this blog from the beginning, you'd know that I started writing it in 2009, the weekend before my first conference, and days after completing my first novel, Finding Cadence.
I strongly urge all writers to attend conferences. Yes, even the introverts pecking away in the dark, the ones who can barely make human eye contact much less conversation. It's expensive, yes, but choose one. Attending a conference might be the jolt of inspiration you need. The knowledge you gain, the friends you'll make, the networking you'll find – makes a writers conference so valuable.
I've read a lot of blogs outlining what you should bring to a writers conference (pitch, synopsis, smile, laptop, pen, comfortable shoes, clothing in layers), but rarely have I read anything regarding what NOT to bring.
Now that I'm a veteran attendee, I've witnessed a wide gamut of behavior from very, very good to cringe-worthy. Here is my brief list of what NOT to bring to a writers conference.
1. Leave your delusion of grandeur at home. Yes, your novel might be the best thing since The Great Gatsby, or maybe it's not quite there and needs some TLC. Save your attitude for when you're on the NY Times best sellers list.
2. Don't bring your sour face. Maybe you've been toiling at this writing game for years and years and YEARS. You've sent out a couple hundred query letters, half of which are rejected, some auto-rejects, the rest scathing (or not) personal missives telling you "Sorry, not interested." After years of being worn down, you think agents are the devil's spawn, since all of them have dissed your work. Whatever you do, do not wear your disappointment where other attendees (including agents) can see.
3. Get rid of your protective shell, at least for the conference. Shed your turtle coat and let it all hang out. Sure, you'll be left in a vulnerable position, but repeat after me, "They will not eat me." The other writers are not your mortal enemies, and neither are the agents. (Tip: If you smile, you might make some friends.)
4. Don't bring your closed mind. You will attend many workshops and absorb a lot of information in these three short days. Instead of discounting the possibilities, carefully consider the material that is presented to you. After studying the options, you might find that "this" technique or "that" approach might work for you. Or not.
5. Forget your hound dog nose, too. Agents and presenters can be a friendly bunch, but stalking is not recommended – unless done discreetly, of course. (Do you really want to be known as that writer?) Save your dogged perseverance for later. Like when you're feeling dejected and want to throw in the writing towel.
Me? I plan on not pitching, even though I have two novels in various states of disrepair. I plan instead on listening very carefully, garnering all the knowledge I can, and furiously writing notes.
And now…I must pack.
See you on the other side.