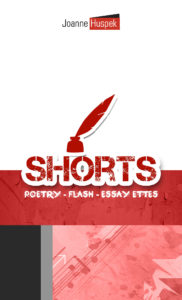 Warning: Shameless self-promotion
It only took three weeks of monkeying around with the layout of Shorts (the worst part of self-publishing, if you ask me!). Word of advice to poets: it's likely your layout will not survive the digital age. Unless you are some sort of computer guru. Me? I'm stumbling around in the dark. If I find an answer to my prayers, it's probably by accident. Formatting a novel is so much easier. Compiling the material for Shorts was the easiest task, once I found the material.
The hard copy will be printed by CreateSpace (using my imprint), and BookBaby is working on the eBook. Just as I sent my thirtieth edit in to CreateSpace, I received my eBook file. What a mess! Not their fault; again, it's the poetry that whacks up the way it appears.
The problems weren't limited to the interior. While my cover was done by someone on fiverr, it wasn't complete. Tweaking had to be done there too, which is soooooo frustrating. Here again, I am familiar with Adobe products as I use them in my Real Life job, but Fireworks? NO. Trial, error, trial, error. Oh well, it's how I learn. Just hope I don't forget when I attempt this again in the near future.
Now I'm waiting for the final proof and then voila! My chap book will be ready to go.
What did I learn?
It's far easier to write than to complete the after-writing tasks, like editing, formatting, etc. Ugh, and the marketing. As you might know, I'm a rather lackadaisical promoter. NOT looking forward to this part of the book equation.
I also learned that I need some technical skills. Perhaps when I've retired from the Day Job, I can take a few advanced classes on Adobe InDesign. Or at least watch some YouTube videos.
I also learned everything takes time. Writing a cohesive book takes time. Editing and re-writes take even more. The rest of it is a time suck for sure. Which is why we shouldn't waste time (but I do anyway). I've learned my lesson, and am going back to the grind, with nary a break.
Signed copies will be available through this web site (once I figure out how to add a "buy" button). I'll also be at the next Leon and Lulu Books and Authors event, Sunday, October 22 from 11-5. If you are in southeastern Michigan, hope to see you there! (I volunteered to read. 🙂 )
Save
Save