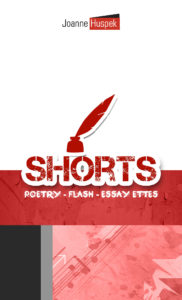 Last Sunday, I was at Leon and Lulu's Books and Authors event, which is always, always a fun time, even if you aren't selling a lot of books. (I sold a few.) This store is a great place to people-watch (any day, any time), it's funky and comfortable, and everyone is super friendly. They feed you, they give you coffee, and my couch was to die for. I even made a new friend, a fellow artist from across the Detroit River!
I even survived my 15 minutes of reading time! I chose "The Campbell's Tomato Soup Tragedy" – my San Francisco Writers Conference First Place Contest winner of 2016 *pats back with own hand*, "Just Before Turning on the Furnace," and "A Love Story in 50-word Chapters" to read. I was nervous, as it was only the second time I've read my work aloud to P-E-O-P-L-E. The first time, last February at the conference, I was sufficiently juiced up; this time, I'd only had coffee and popcorn under my belt.
It wasn't nearly as scary as I thought it would be. There were less than a handful of listeners, and even without a mike, I did okay. (My voice is very low – unless I'm screaming, and that's just not attractive!) Maybe I spoke too quickly. I know I didn't emote like Dr. Andy. Later on, I wondered why the stage fright. I regularly karaoke, and do my best at it without alcohol. I've learned to belt out tunes from my diaphragm instead of my throat.
Hmm… perhaps this works with reading? I should give it a try.
Still working on the final draft of Virtually Yours Forever. I was waylaid by smashing my right hand into my granite counter top, which resulted in a bruised and purple mess. (Don't ask how, just know Purrby was involved.) It was entirely too painful to type for nearly a week.
We are days away from November, which means NaNoWriMo! Yes, I will give it the old college try again. I have a story in my head, about sisters who return home when their father dies and old dysfunction and past grievances come to light, ya-da ya-da, and (perhaps) in the end, they kiss and make up. (I say "perhaps" because as you might know, I like my characters to suffer.) I will attempt to make a NaNo post if my word-count will allow.
And finally, fall has finally fallen, after most of September and October feeling absolutely tropical. The leaves are beginning to turn, riots of color. It's not my favorite time of the year; it's pretty, but what follows is cold and snow and wind and unpleasantness. But winter is a good time to hibernate and write.
If you want to buy Shorts, it's available on Amazon HERE. Or, if you want a signed copy, email me at jlhuspek [at] msn [dot] com and I'd be happy to get one out to you. (No, I have not figured out the buy button thing yet.)
Save
Save